Szopka Art
The szopka art form ("shop-kah") originated in the 1800s as elaborate sets for traveling puppet theaters in Cracow, Poland. Built from wood, cardboard and colored foil paper, the szopka incorporates whimsical interpretations of architectural motifs in elaborate structures of varying sizes. It was brought to America in a simplified style by Polish immigrants in the late 1800s, but declined by the 1970s.The art form is currently experiencing a resurgence in the United States thanks to the work of Pittsburgh artist David Motak.
There are basic prerequisites for szopka construction: that it be symmetrical, that it be constructed of lightweight materials and be ornately detailed. As they were originally meant to be carried, a szopka must also be three-sided with the back portion finished, but not detailed. Otherwise, artists are free to engage in their own whimsical renderings that fuse a variety of architectural motifs with the artist's personal style and creativity. Allegorical – often satirical – figures have replaced puppets in modern szopki and these figures are often motorized.
Artist Dave Motak
Dave is an award winning artist and an internationally respected szopka expert.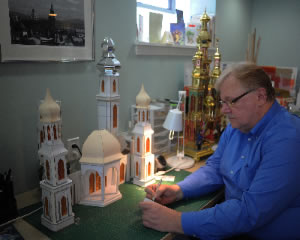 Dave's journey as a szopka artist has lead him to his present attempt to translate this idiosyncratic traditional art to reflect a more contemporary, universal perspective. His first step was to devote several years of researching the art within its original context and studying from European practitioners. Secondly, he established his credentials as a legitimate szopka artist by becoming the first foreigner to enter the Annual Cracow Szopka Competition, earning a special award for Artistic Merit. Finally, Dave is currently expanding his artistic range by incorporating new design elements, styles and architectural interpretations that reflect more of a contemporary and thematically broader approach.
A former student of prominent Polish art historian Karl Estreicher, who promoted the szopka as a serious art form, Dave has traveled to Poland over 16 times since beginning his szopka project in 2003 to research szopka construction. This includes an apprenticeship with szopka master Maciej Moszew, funded by the Institute for Cultural Partnerships and an Artist Opportunity Grant from the Greater Pittsburgh Arts Council. Dave's pieces have been commissioned by, among others, the Frederik Meijer Gallery, Grand Rapids, MI, the Gagosian Gallery, New York and various private collectors. He was the first foreign artist to enter the annual Cracow Szopka Competition (2010). In 2011 he was invited to exhibit his works in Hong Kong, becoming the first artist to exhibit the szopka in Asia.His graphic work has recently been exhibited at the Polish Parliament in Warsaw. He has received numerous recognitions, including the Work of Art Award from the Greater Pittsburgh Arts Council (2009).
In addition to his extensive work as a producing artist, Dave has popularized the szopka by producing instructional workshops both locally and nationally. Over 800 individuals have studied szopka creation under his tutelage and there is now a growing number of szopka practitioners in the United States. This experience has provided the artist with value experience in the importance of translating a traditional European art to a general (non-ethnic) American audience. As szopka building is not formally taught in Poland or elsewhere, Dave's efforts are unique and have established Pittsburgh as a major center of this burgeoning art form.
Dave remains fascinated with the challenge of adapting an art form with Old World references to reflect more of a contemporary American idiom. In that regard, over the past two years, he has devoted his creative time to developing his personal works, exploring new design techniques and building methods in order to develop his own distinctive, interpretive style.

Current Work
Dave creates both traditional and interpretive szopka pieces and is available to discuss commission work. Each piece is hand detailed and custom built so that various sections disassemble for convenient shipping and storage in individual containers that are designed for each szopka section. Dave also makes presentations to cultural and community groups and, on a limited bases, conducts szopka building workshops.
To consult with Dave about commission work, making a presentation for your group or conducting a szopka workshop, please feel free to contact him at davidmotak@davidmotak.com or phone 412-835-0539.


News About Dave
Hong Kong Exhibition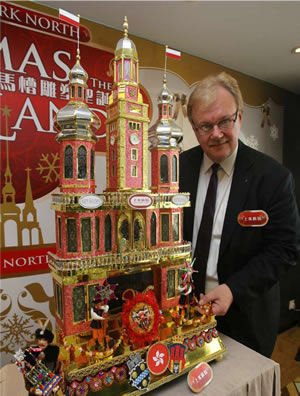 On November 23, 2011, Dave traveled to Hong Kong at the invitation of Sun Hung Kai Properties for the opening of a public exhibition of his szopka art at their flagship Landmark North Complex. This was the first time that szopka art has been exhibited in Asia and the exhibition, which was extensively covered by Hong Kong media, attracted rave reviews and large numbers of attendees. Special guests for the gala exhibition opening ceremonies and ribbon cutting were Taiwanese celebrity actress, film star and fashion model Sonia Sui and the Honorable Mariusz Boguszewski, Deputy Consul General for the Republic of Poland in Hong Kong. As part of the exhibition, Dave was commissioned to create a distinctive, large "Hong Kong" szopka. This mechanized szopka included an interpretation of the famous landmark Hong Kong Clock Tower and Chinese Dragon with moving head as well as two rotating Polish folk figures carrying Christmas Stars.

Click HERE for more photos on the Hong Kong exhibition.


Master Artist and Traditional Bearer Award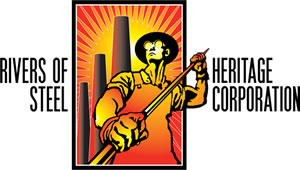 In 2014 Dave was selected to receive the Master Artist and Traditional Bearer Award from the Rivers of Steel National Heritage Area. The award recognizes Dave for his attainment of a high level of achievement in his chosen art form and for sharing this art form with others. Dave is listed in the Rivers of Steel Folk Life Directory HERE


"Byc Polakiem" Committee
In recognition of his many contributions to Polonia and promoting Polish Culture around the world, Dave served as an Honorary Member of the "Być Polakiem" Committee, a world-wide initiative designed to encourage children of Polish descent around the world to express their heritage through the arts. "Być Polakiem" was established by the Hon. Joanna Fabisiak, Polish Parliamentary Representative and headed by former Polish President Lech Walęsa. In July, 2013 Dave was invited to the Royal Castle in Warsaw to participate in the annual award ceremony for the "Być Polakiem" initiative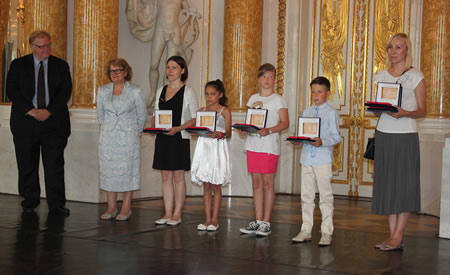 "David Motak Day" in the City of Pittsburgh
Prior to his departure for Hong Kong, Dave was honored for his cultural contributions to Western Pennsylvania with a special proclamation by the Pittsburgh City Council on Thursday, November 10, 2011 which was proclaimed "David Motak Day" in the City of Pittsburgh. Several friends, students and co-workers from the Polish Falcons of America were on hand to join Dave for this special recognition. Representing their respective organizations were David Seals, of the Greater Pittsburgh Arts Council, Joseph Kaminski representing the Polish National Alliance and the Polish American Congress and Lorene Vinski from the Pittsburgh Cultural Trust. We extend a special word of thanks to Councilwoman Natalia Rudiak and Councilman Bill Peduto for their support of the arts in Pittsburgh.


ACPC Honors Dave's Cultural Contributions
David Motak was presented with the 2011 National Cultural Achievement Award by the American Council for Polish Culture (ACPC). The prestigious Award is presented annually by the ACPC to one individual who has made outstanding contributions to Polish and Polish-American cultural life. This prestigious recognition acknowledges Dave's artistic work, promotion of Polish culture and educational contributions, including his work as a renowned artist who has promoted the szopka art form throughout the United States as well as in Poland. The Award was presented during the organization's 63rd annual convention in Cleveland, Ohio on July 16.

Participating in the Award presentation were (left to right in photo above): The Honorable Ewa Junczyk-Ziomecka, Consul General of the Republic of Poland in New York; Debbie Majka, President, ACPC; Cultural Achievement Award Recipient David Motak; Bernadette Wiermanski, ACPC First Vice President and Award Presenter; and Timothy Kuzma, President and CEO, Polish Falcons of America.


From Pittsburgh to Cracow
Dave Motak Earns Polish Accolades
Work of Art Award
Dave was recently selected as the recipient of the prestigious Work of Art Award, presented by the Greater Pittsburgh Arts Council.
One of the highest recognitions that can be bestowed on an individual artist in Pennsylvania, the Working Artist Award recognizes an individual artist who has demonstrated exceptional innovation, boldness and creativity in advancing their art form. In presenting the Award, the Greater Pittsburgh Arts Council recognized Dave "as a leading promoter and practitioner of the Cracow Szopka art form in the United States, whose individual works, student workshops, szopka exhibitions and cultural events have shown tremendous leadership, innovation and drive in promoting his Pittsburgh-based initiative."
The Award was presented on Monday, June 1, 2009 at gala ceremonies at the Pittsburgh Opera's new headquarters in Pittsburgh's Strip District.